Officials Speak on Legacy of Tom Menino
Video. Reacting to the passing of Tom Menino, Mayor Walsh and city councilors reflect on the legacy of Boston's longest-serving mayor. Report aired October 30.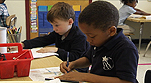 Trotter Chosen as Boston's "School on the Move"
Video. For showing exemplary progress in achievement for all students, the Trotter K-8 Pilot Innovation School in Roxbury wins the 2014 "School on the Move" prize. Report aired October 30.
Candidates for Governor Speak at Youth Forum
Video. Four candidates for Governor of Massachusetts answer questions at a Youth Jobs Coalition forum on employment, education, transportation. Report aired October 30.
Wentworth Opens Dorm on Huntington Avenue
Video. Wentworth Institute of Technology opens a new dormitory on Huntington Avenue with space for more than 500 students. Report aired October 28.
Fields Corner Chosen as "Great Neighborhood"
Video. The American Planning Association selects Dorchester's Fields Corner as one of the country's "Great Neighborhoods" for 2014. Report aired October 27.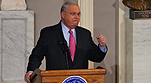 Reaction to Menino Decision on Cancer Treatment
Video. Past and current officials react to the decision by former Boston mayor Thomas Menino to suspend aggressive treatment for cancer. Report aired October 24.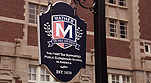 Mather School Celebrates 375th Anniversary
Video. The Mather Elementary School in Dorchester, the first tax-supported elementary school in North America, celebrates its 375th anniversary. Report aired October 22.
Property Firms Blamed for Housing Cost Spikes
Video. Firms buying and managing property are blamed at a City Council hearing for steep increases in the cost of housing for tenants and condo owners. Report aired October 21.
Funding Helps Students Reach Higher Goals
Video. Federal funding helps students in the Boston Public School reach goals for higher education through supports such as mentoring and financial aid counseling. Report aired October 21.
Performers Dramatize Chinatown Housing Need
Video. A dance group dramatizes the need for more affordable housing in Chinatown, in a series of events organized by the Chinese Progressive Association. Report aired October 21.
Polish Pride Celebrated in South Boston
Video. Mayor Walsh joins local community leaders for a Polish Pride Day celebration at Our Lady of Czestochowa Church in South Boston. Report aired October 20.
Neighborhood Gets Help with Safety, Housing
Video. The MetLife Foundation and the Local Initiatives Support Corporation help solidify gains for public safety and housing in Dorchester's Hendry Street area. Report aired October 15.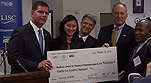 New Agency to Help Bridge Economic Divide
Video. The city create a new agency to help bridge Boston's economic divide, with financial empowerment centers opening at three locations. Report aired October 15.
Racial Disparity Prompts Look at Stops by Police
Video. A report on stops by the Boston Police draws a conclusion of racial bias from the ACLU and dissent from a researcher. Report and interview segments aired October 10.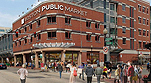 Construction Starts on Boston Public Market
Video. Construction starts on the Boston Public Market near the Rose Kennedy Greenway, with plans for more access to healthy food and job opportunities. Report aired October 9.