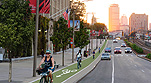 Protected Bike Lanes Planned for Comm. Ave.
Video. Boston's first physically protected bike tracks are planned for Commonwealth Avenue, as part of the reconstruction between the BU Bridge and Packard's Corner. Report Aired March 25.
Opportunities Touted for Urban Entrepreneurs
Video. A forum at the Mass. Convention & Exhibition Center, "Boston Means Business," promotes opportunities for urban entrepreneurs. Report aired March 24.
Mayors Urge More Federal Transportation Money
Video. Mayor from around the country join in calling for more federal funding of transportation projects, including the MBTA and Long Island Bridge. Report aired March 23.
Two Firefighters Honored by Memorial Plaque
Video. A plaque is unveiled in the Back Bay commemorating the two Boston firefighters who died in the line of duty March 26, 2014. Report aired March 23.
Activists Try to Derail Domestic Spending Cuts
Video. Activists from "Budget4All" try to rally MBTA riders against proposed federal spending cuts in areas such as health care and transportation. Report aired March 20.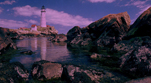 New Outdoor Opportunities Planned for Youth
Video. Young people will have more opportunities for recreation, work, and learning in parks and open spaces, thanks to a national initiative and help from the YMCA. Report aired March 13.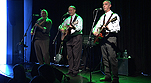 Politicians Get in Shape for St. Pat's Breakfast
Video. Elected officials past and present get ready for the comic hurdles of the St. Patrick's Day Breakfast by taking turns at a luncheon for the Boys and Girls Clubs. Report aired March 12.
BPS Students Press for More Education Funding
Video. Students from the Boston Public Schools, faced with more budget cuts, call for more state funding at a hearing on the foundation budget for education. Report aired March 10.
School Committee Picks New Superintendent
Video. The Boston School Committee, by a vote of 5-2, chooses as the new superintendent Tommy Chang, an administrator from Los Angeles. Report aired March 4.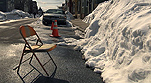 Time Limit on Space-Savers Gets Mixed Reaction
Video. The end of extended time for space-savers to secure parking spots, taking effect March 2, draws mixed reaction in South Boston. Report aired March 2.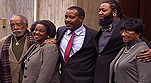 Black History Celebrated in City Council Chamber
Video. A celebration of Black History Month takes place in the City Council's Iannella Chamber, sponsored by council members and Blacks in Government. Report aired February 26.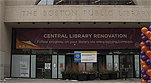 Renovations Unveiled at Boston's Central Library
Video. New children's, teen, and non-fiction areas get a make-over as part of the renovations at the central library of the Boston Public Library. Report aired February 23.