A Trickle-Down Remedy for Groundwater Loss
Video. Porous pavement helps reduce depletion of groundwater needed for buildings in the South End, while curbing pollution. Report aired November 21.
Holiday Arts Events on Tap, with Discounts
Video. Thanks to discounts from MayorsHoliday.com, more people in Boston can have access to arts events and performances over the holidays. Report aired November 19.
Groundbreaking Takes Place for "Seaport Square"
Video. Work starts on a mixed use development in the Seaport district with more than 800 apartments and the area's largest concentration of retail space. Report aired November 14.
City Officials Pressed to Help Displaced Homeless
Video. At a packed meeting, city officials are urged to do more to help hundreds displaced by the shutdown of shelter and recovery facilities on Long Island. Report aired November 13.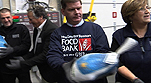 Greater Boston Food Bank Holds Turkey Drive
Video. Supporters at the Greater Boston Food Bank help out with its annual turkey drive, an effort to help with holiday meals for 87,000 people in need. Report aired November 13.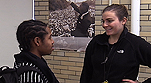 Mayor Walsh Comments on Learning Gap Report
Video. Mayor Walsh comments on a new report about the racial and gender gap in achievement in the Boston Public Schools. Report aired November 13.
New Violence Prevention Curriculum Introduced
Video. A new violence prevention curriculum, including billboards and a video featuring young survivors, is prepared for students in the Boston schools. Report aired November 6.
Transitional Housing for Women Opens in Roxbury
Video. A ribbon-cutting takes place in Roxbury at new transitional housing for women in recovery opened by The Dimock Center. Report aired November 5.
Baker/Polito Supporters Celebrate Victory
Video. While postponing what would later be a full victory speech, Charlie Baker address supporters after being projected as the next governor of Massachusetts. Report aired November 5.
West Roxbury Voters Turn Out for General Election
Video. As people throughout Massachusetts pick new leaders and decide ballot questions, voters turn out in West Roxbury at Holy Name Parish Hall. Report aired November 4.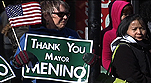 A Last Hurrah for Mayor Menino in Roslindale
Video. Residents say their last thank you to former mayor Tom Menino, as his motorcade makes its way from downtown to a funeral in Hyde Park. Report aired November 3.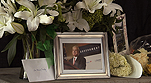 People from Boston Share Memories of Menino
Video. People from Boston line up to express condolences and share memories of former Mayor Tom Menino, including stories of personal encounters. Report aired October 31.
Officials Speak on Legacy of Tom Menino
Video. Reacting to the passing of Tom Menino, Mayor Walsh and city councilors reflect on the legacy of Boston's longest-serving mayor. Report aired October 30.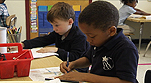 Trotter Chosen as Boston's "School on the Move"
Video. For showing exemplary progress in achievement for all students, the Trotter K-8 Pilot Innovation School in Roxbury wins the 2014 "School on the Move" prize. Report aired October 30.
Candidates for Governor Speak at Youth Forum
Video. Four candidates for Governor of Massachusetts answer questions at a Youth Jobs Coalition forum on employment, education, transportation. Report aired October 30.