New Rail Stop to Boost Allston Redevelopment
Video. Officials announce plans for a new intermodal commuter rail stop in Allston, eyed as an added spur to redevelopment of land to be freed up by I-90 relocation. Report aired September 30.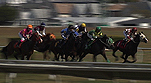 Finish Draws Near for Racing at Suffolk Downs
Video. Fans, support staff and competitors reflect on the end of live racing at Suffolk Downs expected in early October. Report aired September 26.
"Rally for Recovery" Takes Place in Roxbury
Video. As part of a nationwide series of events for Recovery Month, a rally in Roxbury calls for more access to treatment for substance abuse. Report aired September 26.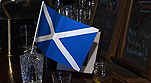 Scottish Independence Debate Finds Haven in JP
Video. As votes were being counted on the independence referendum in Scotland, people on both sides weighed in at a Scottish pub in Jamaica Plain. Report aired September 19.
City Council Refers Pay Increase to Committee
Video. The Boston City Council refers to committee an ordinance that calls for giving its members a 29% pay increase--their first in 8 years. Report aired September 17.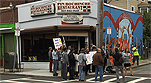 Egleston Sq. Business Faced with Rent Increases
Video. Latino owners of businesses near Egleston Square say they face increases in rent and occupancy costs by as much as 65 percent. Report aired September 16.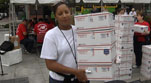 Volunteers Mark Sept. 11 in Effort for US Military
Video. Volunteers observe September 11 by packing supplies to be sent overseas to people in the US military, in an event organized by the Mass. Military Heroes Fund. Report aired September 11.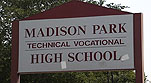 Shaky Start for Madison Park High Turnaround
Video. Efforts to turn around Madison Park Technical Vocational High School, after a long history of underperformance, get off to a shaky start. Report aired September 9.
League in Dorchester Goes to Bat for Inclusion
Video. The Savin Hill Little League creates a division for players with disabilities, thanks in part to support from the Martin Richard Charitable Foundation. Report by Pat Flaherty. Aired September 8.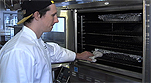 Incubator Helps Entrepreneurs, Job-Seekers
Video. A food business incubator opens in Dorchester, serving the needs of entrepreneurs and the need for jobs along the Fairmount Corridor. Report aired September 8.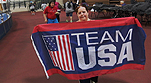 "TILL Games" Help Clear Sports Barrier
Video. The annual "TILL Games," organized by the non-profit Toward Independent Living and Learning, take place at the Reggie Lewis Center in Roxbury. Report aired September 8.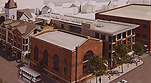 Work Starts on Substation Project in Roslindale
Video. Work starts in Roslindale Village on transforming a former electric substation for public transit, along with adjacent parcels, into a mixed-use development. Report aired September 8.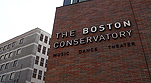 Boston Conservatory Opens Building in Fenway
Video. The Boston Conservator opens a new performance, practice and studio facility on Ipswich Street, its second new building in the Fenway in five years. Report aired September 5.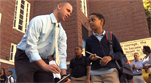 New Year Starts in Boston Public Schools
Video. A new year begins for most students in the Boston Public Schools, including more than 2,000 8th graders switching to rides on the MBTA. Report aired September 4.
Officials Backtrack on Dearborn Conversion Plan
Video. In response to concerns from the community, a conversion plan for the Dearborn Middle School in Roxbury is put on hold. Report aired September 4.