March Highlights Homeless, Treatment Needs
Video. A "March of the Homeless" urges more support for shelter, housing, and drug treatment programs, including those displaced from Long Island. Report aired April 23.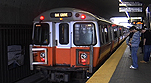 Governor Baker Files MBTA Reform Legislation
Video. Massachusetts Governor Charlie Baker files legislation to reform finances, operations, management, and fares on the MBTA. Report aired April 22.
Renter Eviction Put Off After Activists Blockade
Video. Following a blockade by activists, Fannie Mae puts off an eviction from a house in Dorchester and reconsiders an offer to keep the property affordable. Report aired April 16.
Workers in Boston Press Demand for Living Wage
Video. Hundreds of workers take to the streets of Boston in a new campaign to narrow gaps in earnings and affordability. Report aired April 15.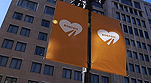 "One Boston Day" Marks Bombing Anniversary
Video. With ceremonies and acts of service, the 2nd anniversary of the Boston Marathon bombing is marked as "One Boston Day." Report aired April 15.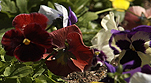 Flowers in Copley Sq. Mark Spring and Marathon
Video. The city's Parks and Recreation Dept. plants flowers in Copley Square to mark the return of spring and remembrance of the Boston Marathon Bombing. Report aired April 13.
College Hockey Teams to Play in Northern Ireland
Video. Four college hockey teams from the northeast agree to play in a tournament this November in Belfast, to help the city overcome historic divisions. Report aired April 10.
Planning Starts for Boston Arts, Culture Programs
Video. The process gets underway on Boston Creates, a ten-year plan for the city's arts and cultural programs. Report on program's announcement aired April 9.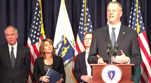 MBTA Panel: Put Reforms Before New Revenue
Video. A panel named by Governor Baker calls for management reforms at the MBTA before seeking new revenue. Report and reaction by Transportation for Mass. aired April 8.
Advocates Press on Long Island Program Sites
Video. Advocates press the city to move more quickly on new sites for shelter and recovery programs displaced by closing of the Long Island Bridge. Report aired April 8.
Ferdinand Block Renamed Bruce Bolling Building
Video. The city's new complex on the Ferdinand Block in Roxbury's Dudley Square is renamed the Bruce C. Bolling Municipal Building. Report aired April 7.
Good Friday Event Reflects on Egleston Square
Video. The annual "Good Friday Walk" at St. Mary of the Angels Church reflects on the painful and the redemptive in neighborhoods around Egleston Square. Report aired April 3.
Students Warned About Substance Abuse Risk
Video. City officials are joined by Chris Herren at Jeremiah Burke High School in discussion about the dangers of substance abuse. Report aired April 1.