About BNN News
Directions
Copies of Segments
BNN News Archive
Boston Blogs
Boston Photos
BNN
Photo Galleries

Around Boston
Boston photos, from 1970's to the present.
Dorchester Day Parade
On Neighborhood Network News July 30
Teens try to mobilize new voters in Roxbury. A member of SEIU 32BJ, Cecilio Rodriguez, talks about a campaign to prevent job cuts for MBTA janitors. Also: plans to expand Tenacity, a tennis, fitness and academic program for young people in Boston. Also: neighborhood reports from South Boston and Allston-Brighton.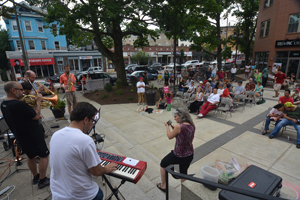 The band Opposite People plays in front of Blessed Sacrament Church in Hyde Square, as part of the 1st annual JP Porchfest, with free music at 35 locations in Jamaica Plain on July 19. (Lovett photo) More photos.