Youth Baseball League Starts Season in Roxbury
Video. Former Red Sox pitcher Tim Wakefield makes the first throw as the RBI (Reviving Baseball in the Inner City) League starts a new season in Roxbury. Report aired April 18.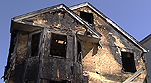 Dozens Injured, Displaced by Explosion and Fire
Video. Dozens of people are injured and displaced by a fire and explosion in Dorchester believed to have been touched off by a gas leak. Report aired April 17.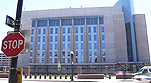 Hearing Held on Proposed Level 4 Bio Lab Ban
Video. A hearing is held on a city councilor's proposal to ban all bio research with the highest risk level in Boston, including at the lab run by Boston University. Report aired April 17.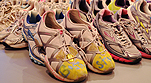 Copley Sq. Exhibit Revisits Marathon Memorial
Video. An exhibit at the Copley Square Library revisits objects, messages and symbols from the makeshift memorial that took shape after the marathon bombing. Interview aired April 16.
Walsh Reports on First 101 Days as Boston Mayor
Video. Marty Walsh debriefs on his first 101 days as Mayor of Boston, touching on milestones, changes, and the need for continuity. Report aired April 16.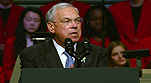 Bombing Tribute Recalls Loss and Resilience
Video. Officials gather with survivors and first responders to mourn the losses in the Boston Marathon bombing and celebrate Boston's resilience. Report aired April 15.
Developer Pressed for Affordable Housing Money
Video. A day before "tax day," protesters call on the developers of Millennium Place, a few blocks from Chinatown, to increase their contribution for affordable housing. Report aired April 14.
A Call for Turning in Expired, Unneeded Drugs
Video. To help prevent new cases of drug addiction, officials call for turning in any prescription pain killers that are expired or unneeded. Report aired April 7.
Fallen Boston Firefighters Mourned as Heroes
Video. Thousands of people, from near and far, gather to pay respects to Lt. Ed Walsh and Firefighter Michael Kennedy. Report by Ashley Davis. Aired April 3.
Developments Fill Gaps in Hyde Sq./Jackson Sq.
Video. A ribbon-cutting is held for mixed use developments filling gaps in the need for housing and commercial activity between Hyde Square and Jackson Square. Report aired March 31.
Boston Firefighters Mourned, Hailed as Heroes
Video. Lieutenant Edward Walsh and Firefighter Michael Kennedy mourned and hailed as life-savers after their deaths in a 9-alarm fire in the Back Bay. Report aired March 27.
Mayor Walsh Starts Series of Town Hall Meetings
Video. With a forum in Brighton, Mayor Walsh starts a series of regular town hall meetings in Boston neighborhoods for taking questions and hearing concerns. Report aired March 25.
Support Urged for Charter Cap Lift Compromise
Video. Supporters of a compromise on charter school expansion make the case for district public schools funding agreement. Report, interview with Rep. Russell Holmes aired March 24.
Rental Inspections Start, with Proposed Changes
Video. Mayor Walsh launches proactive rental inspections, targeted mainly on problem landlords, with proposed relief for many small property owners. Report aired March 24.