Higher Pay Backed for Fast Food Workers
Video. As part of a national strike effort, a show of support takes place in Dorchester for raising the pay of fast food workers to $15 an hour. Report aired December 5.
City Council Approves New Contract for Police
Video. The City Council approves a new contract giving Boston police officers a pay increase of 25% over six years. Report on vote, with reaction from Mayor-elect Marty Walsh, aired December 4.
Volunteers Try to Boost Learning in Roxbury
Video. National service corps volunteers, working as the Dudley Promise Corps, try to boost learning at a school in Roxbury. Report aired December 3.
Street Renamed to Mark Cocoanut Grove Fire Site
Video. A street in Boston's Bay Village is officially renamed to mark to location of the historic Cocoanut Grove nightclub fire, which took the lives of 492 people. Report aired December 2.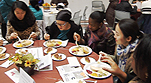 I
mmigrants, Neighbors Join in Thanksgiving Meal
Video. Newcomers to the United States and some of their Boston area neighbors join in a Thanksgiving luncheon at the State House. Report aired November 26.
Specialist Hails Architecture of Roxbury Mansion
Video. Actor and restoration specialist Bronson Pinchot hails the splendors of Greek Revival architecture of the Alvah Kittredge Mansion in Roxbury. Report aired November 25.
Monument to Puerto Rican Veterans Unveiled
Video. A new monument to Puerto Rican veterans who served in the US armed forces is unveiled in Boston's South End. Report for BNN News. Aired November 19.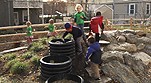 School Playground in JP Adds to Learning Space
Video. A new playground for the Mission Hill K School in Jamaica Plain provides more space for exercise, learning, and social contact. Report aired November 15.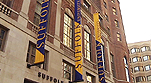 Work Starts on New Suffolk University Building
Video. Ground is broken for Suffolk University's new academic building on Somerset Street, part of the school's shift closer to downtown Boston. Report aired November 15.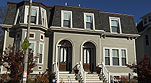 Neighborhood Turnaround Prompts Award
Video. A community-based non-profit and city agencies earn an award for converting "problem properties" into neighborhood assets along the Blue Hill Avenue Corridor. Report aired November 13.
Weightlifting Program Raises Bar and Hopes
Video. A weightlifting program in Dorchester raises the bar and the level of opportunity for young people at risk of heading toward violence. Report by Jeanna Radzinski. Aired November 12.
Mayor-elect Names Transition Team Leaders
Video. Boston mayor-elect Marty Walsh announces co-chairs for his transition team and plans for the transition process, including a series of community meetings. Report aired November 8.